IT'S NOT JUST TRAVEL CANDLES, ITS A WAY OF LIVING
It's like a vacation you never want to end. The warmth of the sun shining, the fresh breeze caressing your face. The sound of your favorite music leading you to dance.
Refreshed & Feeling Vibrant
-Golden Adorns You-
Golden Adorns Living products capture the feelings of wanderlust through home fragrance, style & decor.
BOLD. VIVID. FRESH. SERENE.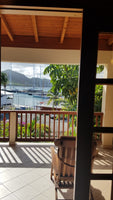 Our Story
Joy | Travel | Beauty | Art
Owner, Alisha Moten paired her love for travel, beauty, style and creative arts in establishing Golden Adorns Living.
Golden Adorns Living is all about living life goldenly; adorning it with joy, travel, beauty & art.
Everyone loves going on vacation, you feel like your true self, refreshed, playful, adventurous, vibrant. But then you return back to the daily mundane grind of life. Post-vacation blues start to set in along with stress. 
Golden Adorns Living helps you create a mini getaway with travel-inspired home fragrance, decor and style that bring back memories of past travels.